What is LunchTimeRunner (LTR)?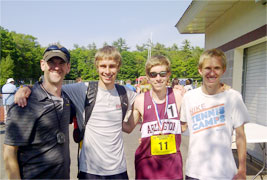 LTR is quality training for runners of all abilities who are trying to fit training into their busy lifestyles. Whether you are a busy professional, student or stay-at-home parent, we create daily, weekly and monthly individualized plans that revolve around you, your lifestyle and fitness level. We help you determine a goal and work with you towards that goal. We also work with groups of individuals.
It's not so much about how much you are doing as how you are doing it. That is why we strive to answer your daily running questions: How long, How hard & How often?
Because running is about recovery and biomechanical efficiency, we focus most of our attention on injury prevention, strength, flexibility, form, nutrition and mental preparation.
Other than a training option for busy folks, LTR is also an affordable race management/timing company. Click on the "Race Management & Timing" tab to learn more.
We can:
Setup your finish-line
Put up a large LED display clock
Offer a PA system
Time your race w/ timing software
Electronic printed results & age group results on site
Race results posted on MileSplits & CoolRunning – same day
---
Testimonials