ILIO-TIBIAL BAND SYNDROME (RUNNER'S KNEE)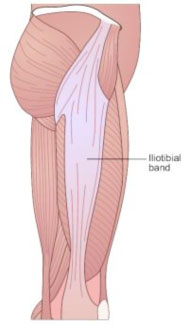 The Iliotibial band is a sheath of connective tissue attaching from muscles in the gluteal (buttock) region to the lateral (outside) surface of the tibia or shin bone. As the ITB passes over the femur bone it is prone to friction on the lateral epicondyle (bony bit on the outside of the knee). The greatest friction on the ITB occurs when the knee is bent at an angle of approximately 20-30 degrees. During running, the knee is normally flexed at around 20 degrees when the runner's foot hits the ground making the ITB highly susceptible to friction on the lateral epicondyle of the femur. In persons who run regularly this may lead to irritation of the ITB commonly known as iliotibial band friction syndrome.
SYMPTOMS
Pain at or around the lateral epicondyle of the femur.
Pain normally aggravated by running, particularly downhill
Pain during flexion or extension of the knee
Tenderness in trigger points in the gluteal area
Tightness in the iliotibial band.
WHAT CAN THE ATHLETE DO?
Stretch: Tightness of the IT band will make friction more likely.
Massage: Foam rollers are a great way to roll out and loosen the IT band.